SLH Best of Four(四大天王) 400g/600g Fresh Durian Bundle Delivery
EACH BUNDLE WILL CONSIST OF
1 x 400g/600g of BLACK THORN
1 x 400g/600g of BLACK GOLD
1 X 400g/600g of JF DURIAN
1 X 400g/600g of RED PRAWN KING
Durian meat with Seed (with packaging weight))
Please read the terms and conditions below before proceeding with the order.
黑刺 Black Thorn D200 Fresh Durian
Offering lusciously sticky sweet meat with a slight alcoholic flavor laced within it, the flavor is one-of-a-kind
黑金猫山王 BLACK GOLD MSW
Specially cultivated in a private plantation to produce Mao Shan Wang durians of the highest bitterness. Bittersweet taste and sticky, creamy texture. The flesh can be sweet and bitter within the same fruit
金凤 (Golden Phoenix(500g
Bitter with a more watery texture and strong pungent smell.
红虾 (RED PRAWN(600g)
Sticky with a sweet aftertaste.
Key Information:
Durian is a unique tropical fruit.

It's popular in Southeast Asia, where it's nicknamed "the king of fruits." Durian is very high in nutrients, containing more than most other fruits.

Health Benefits:

Durian is very high in nutrients compared to most other fruits.

One cup (243 grams) of pulp provides:

Calories: 357

Fat: 13 grams
Carbs: 66 grams
Fiber: 9 grams
Protein: 4 grams
Vitamin C: 80% of the Daily Value (DV)
Thiamine: 61% of the DV
Manganese: 39% of the DV
Vitamin B6: 38% of the DV
Potassium: 30% of the DV
Riboflavin: 29% of the DV
Copper: 25% of the DV
Folate: 22% of the DV
Magnesium: 18% of the DV
Niacin: 13% of the DV
This nutrient profile makes durian one of the most nutritious fruits worldwide.

It's also rich in healthy plant compounds, including anthocyanins, carotenoids, polyphenols, and flavonoids. Many of these function as antioxidants.

Country of Origin:

Malaysia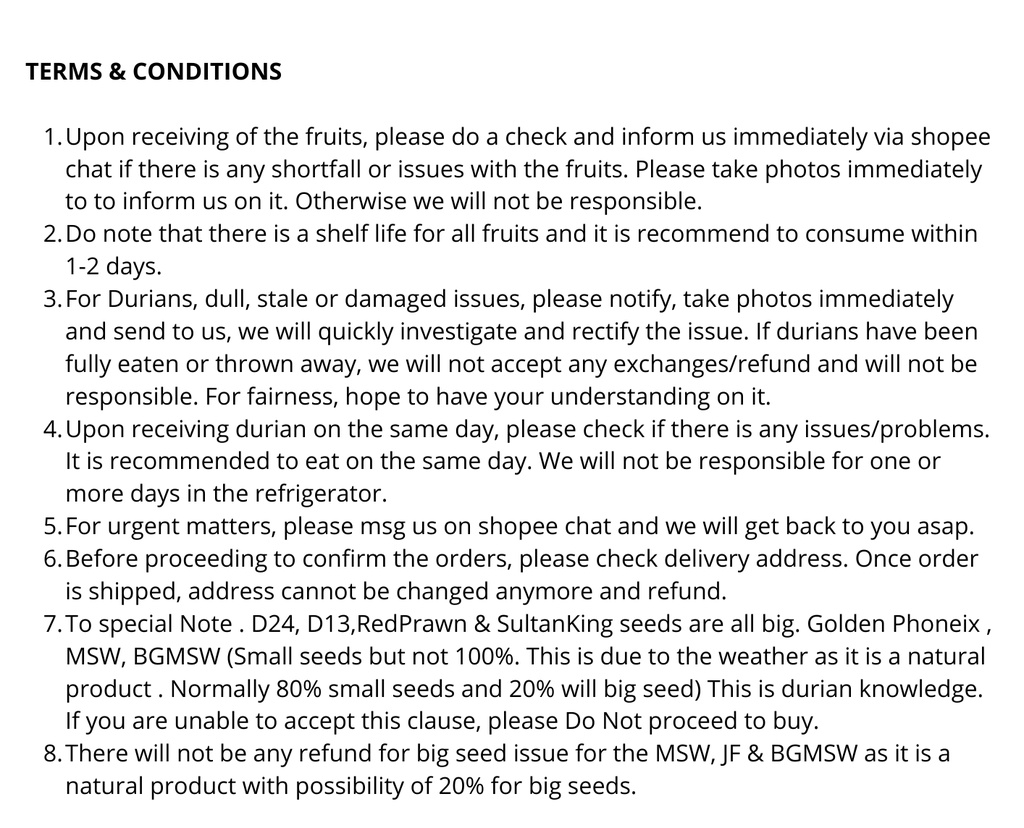 This product requires a quantity of 10 minimum.